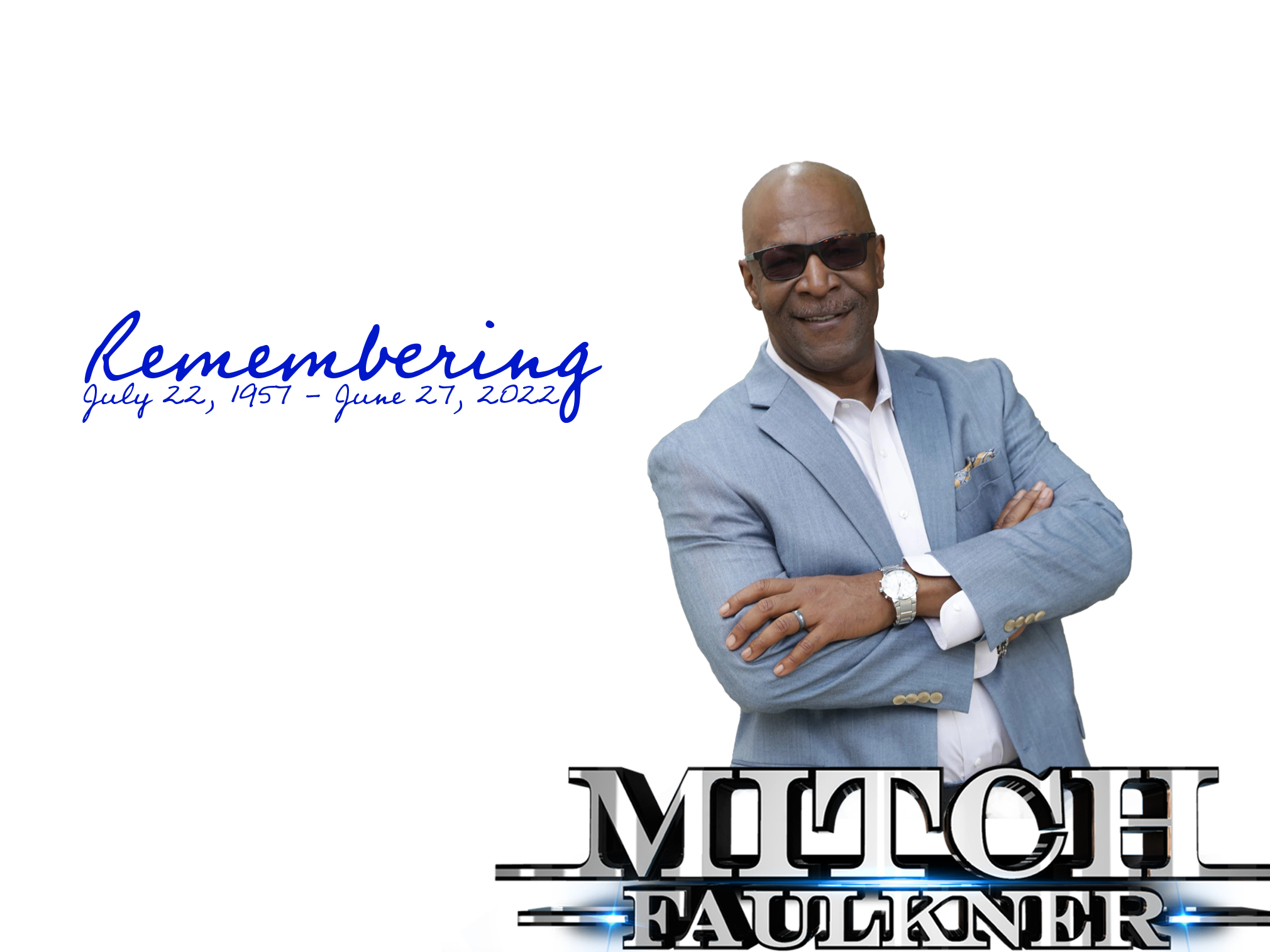 Hip Hop | Urban | Urban AC
On July 22, 1957, the world received Mitchell Edward Faulkner.  He was born to the late and loving parents of Willie Faulkner and Annie Belle Faulkner, near Cerulean, Kentucky. Cerulean is a small town in Southwestern Kentucky. The population back then was probably about 200, and that included the dogs, cats and chickens.  If asked, "where are you from?," the response would be Hopkinsville 'Hoptown' KY, which was the largest neighboring town (population 31,000).
By the time, he was two, his older and only living brother, Arvester Faulkner, only three years older, was finding out what it meant to be 'a brother's keeper.' Mitchell was not the one to sit still. There was simply too much to explore in this world,  which lead to one of Mitchell's forever questions… "What that do"?   Mitchell was always the family comedian. His mother got a small 5-inch reel-to-reel tape recorder when he was around 8 or 9.  He would entertain the family of his recordings imitating Spyder Harrison, Hoss Allen, and other DJ's on WLAC,
Nashville and WLS, Chicago. Little did anyone know this was the beginning of his broadcast career. 
Growing up, Mitchell attended McCarroll Hill Baptist Church, where he accepted Jesus Christ as his personal Savior at , under the leadership of the late, Rev. Robert L. Boyd. If you ever asked him about church, McCarroll Hill was his home church and he remained part of that church until the Lord called him home. He loved McCarroll Hill and the teachings of the now Pastor Vice D. Killebrew. He set up the technology and produced the weekly sermons that are broadcast on WKDZ each Sunday. 
Mitchell attended Sinking Fork Elementary School and graduated from Christian County High School in 1976. After graduating, he joined the United States Air Force. 
​Upon returning from the Air Force, Mitchell returned home to join his brother, Arvester, who had started a business, AWF Productions. Arvester had purchased a 4-track reel-to-reel recorder, an 8-channel mixer, a 2 track, and some microphones.  The brothers started by going from church-to-church, recording church choirs, mastering the recording to 8-track tape, and selling the tapes back to the churches in bulk.
Mitchell's professional career began when the brothers were asked to produce a voter registration promo for the 1976 election for the NAACP. The promo used the song 'Get on Down & Party' by Van McCoy. The promo used 4-track technology and voiced by Mitchell. The promo ran on the Country station, WHOP & the Top 40 station WKOA. It was so popular; people were calling the station requesting they play the promo (unheard of). The program director from WHOP got in touch with the two of them and invited them to come to the station.  First, they wanted to know how they did the promo (nobody was using 4-track technology in radio, stations were still splicing tape) and two, they wanted to know who the voice talent was. From that meeting, WHOP hired him for overnights on a country station. 
After a few months, the owner of the newly formatted urban AM station, WABD in Oak Grove Kentucky, heard him on WHOP and hired him as the afternoon DJ. It was there he began to hone is announcing and production skills. He became known as 'The Mighty M.'   While at the station, he and his brother began promoting disco showdowns, plays, concerts, and other entertainment events around the Hopkinsville area.  Mitchell produced all the cutting-edge commercials for their events.  Radio station clients began specifically requesting he produce their commercials. His production skills soared!
​Desiring to do bigger and better things, the Faulkner brothers outgrew Hopkinsville.  On July 7, 1980, they relocated to Atlanta, Georgia. It was here he met the love of his life, Michelle Mullins.  They were married in 1983.  While in Hopkinsville, he was a star,  in Atlanta he was an unknown.  He didn't think he was good enough to pursue a radio career in Atlanta.  Michelle was instrumental in encouraging him to pursue a position on radio, here in Atlanta.  
​Mitchell's first radio job in Atlanta would be at WCLK. Mike Roberts, who was the program director at WIGO, heard him on WCLK and hired him as the afternoon DJ. When his ratings began to compete with those of WVEE, Scotty Andrews hired him at V-103 as the afternoon DJ and for production.  While at V-103, He first African American to hit number one overall (among all stations) in Atlanta radio history!  The  Zapis family hired him as the program director of the newly formatted WEKS, KISS 104.  He put KISS-104 on the map.   After getting KISS-104 going, He was then hired as program director of the fledgling WCDX in Richmond Virginia. From there he went to KMJQ in Houston as production director.
While in Houston, he was doing imaging for a couple other stations on the side when he got the bright idea to offer production services to other urban stations around the country. He called his brother and sold him on the idea. From that On Mic Productions, OMP,  was born.   It was Michelle who came up with the name.  When Michelle asked him to do something, Mitchell would reply "I'm on the mic, I will do it when I finish this spot".   He was always 'on the mic'.   When Mitchell was trying to determine the name for the new business venture, Michelle chimed in by saying, "you should call it On The Mic Productions because you're always on the mic".   The 'the' was omitted, and it became On Mic Productions and the rest is now history.
Through OMP, radio veteran, imaging and production specialist, Mitch Faulkner, became the most heard and demanded urban voice in radio. His voice could be heard on more than 200 stations across the nation, in London, Nigeria, South Africa, the Virgin Islands, Jamaica, Denmark, and the Bahamas.  Mitch has served as voice talent for local and national television stations, radio networks and Ad campaigns. He was the Voice Talent for the National Broadcast of the Trumpet Awards. He was the signature voice for the Janet Jackson Control Tour, the voice of the hit stage play "Beauty Shop", and other events, products, concerts too numerous to name. 
His second passion was motorcycles.  He was an avid biker.  He wasn't content just riding motorcycles, he not only rode for various charities and events.  He organized rides for the One Hundred Black Men, the Leukemia foundation, the National Prostate Awareness Association, and many other causes.  
He has received numerous awards,  the most recent was the resolution from the state of Georgia for his service and contribution to African American Music.  December 3rd, has been declared as Mitch Faulkner day by the city of Atlanta.   He has been inducted into the National Black Radio Hall of Fame and the Georgia Radio Hall of Fame, He earned an Emmy via new Birth Missionary Church broadcast as the signature voice for the best Religious Broadcast,  to name a few.
Of all his accomplishments, he would tell you his greatest, was his willingness to share his knowledge with anyone who was willing to listen. He constantly gave unselfishly to everyone with whom he came contact. He would give anyone who asked the shirt off his back, he would give some skin too if they needed it.  While Mitchell 'Mitch' may be gone from this earth, his spirit lives on through anyone who spent more that 3 minutes with him.   To his protégé's, he was, and will always be affectionately known as, 'The GodFather'.
​Aside from radio, his greatest love was for his sons, Mitchell Faulkner II, Matthew Faulkner, Isaiah Faulkner and his granddaughter, Zylah.  When he wasn't talking about radio (which was rarely), he was talking about his sons and granddaughter.  He loved his parents, his brother, sister in love, and his entire family.
​Mitchell 'Mitch' Edward Faulkner Sr was preceded in death by his parents, Willie Hoover Faulkner & Annie Belle Faulkner, and Brother Jody
Faulkner.Mitchell is survived by his sons:  Mitchell Faulkner II (Jessica Faulkner), Snellville GA; Matthew Faulkner, Albuquerque NM; Isaiah Faulkner (Maihone Faulkner), Step-Son;  Louis 'Lou Will' Williams,  Grayson, GA, Brother; Arvester W Faulkner (Debbie Faulkner), Snellville, GA, Granddaughter;  Zylah Raye